A Shadow Cabinet to Inspire?
Or Just Shadows of Uniformity?
One of the distinguishing features of our Westminster democracy is the Shadow Cabinet that forms the opposition's front bench, mirroring the Cabinet positions (more or less). It is a result of the many conventions put in place to entrench the two party "system". Conventions rooted in traditions, not legislation, nor rating a mention in our Constitution.
Opposition leader Anthony Albanese announced his front bench on Sunday, and it is an experienced group of politicians. But if my analysis of the Morrison Cabinet revealed a collective sorely lacking in diversity, Labor's Shadow Ministry is a congregation so similar they could almost all appear in the same class photo.
Their average age is the same as the Cabinet (51), the youngest 40 (Amanda Rishworth, pipping the ambitious Jim Chalmers (41) by a few months). Chalmers has taken over Chris Bowen's Shadow Treasury, while the latter has been demoted to the Health portfolio – somebody had to carry the franking credits can apart from Shorten. The oldest is the "fixer from Adelaide" – Don Farrell (65).
And it's great to see 11 women of the 23, including two of a leadership team of four.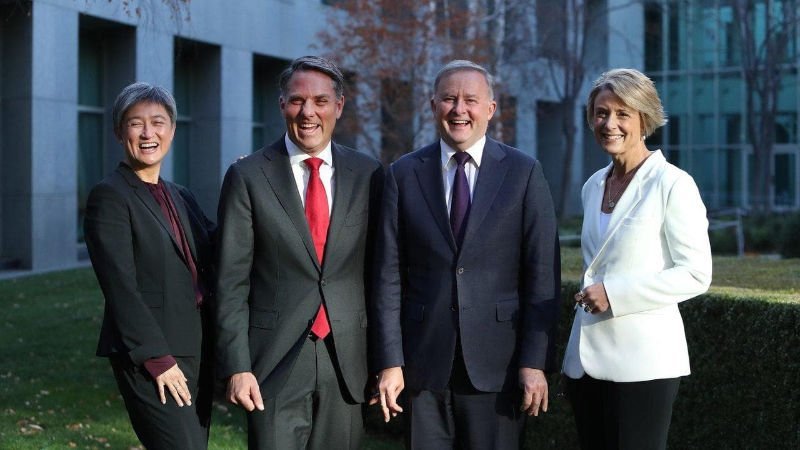 Not surprisingly, over a third (9) come from a union background, and whereas a third of Morrison's Cabinet has a law degree, more than half (12) of the Shadow Ministers do. Adding another five with political science and public policy degrees, it paints a picture borne out also in their collective pre-politics work experience.
Only four of the group do NOT have a background from either union roles, political advisory, local or state politics, before being elected to Parliament. Several, including Albanese, Tanya Plibersek, Jim Chalmers, Joel Fitzgibbon and Julie Collins have been in and around politics all their working lives. The average time in politics is 18 years. As mentioned, a very experienced group, but in a bubble kind of way, even more so than the Cabinet.
So far media has, of course, focused on who is pitted against who in the Cabinet, delighting in the prospect of the combative Kristina Keneally against Peter Dutton – no slouch himself when it comes to street fights. In a headline that speaks volumes about what's wrong with our political discourse, the Sydney Morning Herald describes how Keneally "vows to blowtorch Dutton" over asylum-seeker arrivals. The unsavory and so often mindless point-scoring on the Parliament floor will continue unabated – not to serve democracy and the people except for in dubious entertainment value.
As in the Government, there is an Indigenous voice in the Shadow Cabinet – Linda Burney (replacing Pat Dodson), a teacher who shares a public services background with her counterpart, Ken Wyatt. They both seem like reasonable people that offers some hope that consensus can be found on long overdue actions reflecting the Uluru statement.
Speaking of hope, low profile Michelle Rowland has got the Communications Portfolio and like Communications Minister Paul Fletcher – also a low key operator – she has real telecommunications experience from her legal practice. So maybe there is an opening for a bipartisan approach to fixing the NBN. One of these days pigs might fly, too.
The much less inconspicuous Mark Dreyfus, who was Attorney General for a few months during the chaotic last months of the Gillard/Rudd tenure, a role for which he was well qualified is now shadow AG. He is also Shadow Minister for Constitutional Reform, hopefully a sign that Labor will continue to carry the mantle of reforms so overdue early reminder notices were sent via horse and carriage.
Penny Wong, maybe the most obvious heir apparent to Shorten if she hadn't been a Senator (another silly convention), remains in the Foreign Affairs portfolio. Tony Burke, a stellar political performer adds Industrial Relations (and the Arts) to his long resume of Ministerial and Shadow Ministerial posts.
I personally (and intensely) dislike deposed party-leaders and ministers resigning their seats causing a by-election. Hence I respect that Bill Shorten continues on the front bench where he will be "up against" Stuart Robert in the Government Services/NDIS portfolios – an intriguing mismatch of intellect and experience, to name just a couple of the attributes Robert is lacking.
Of the 23 members of the shadow team, 17 have previous ministerial experience (including Keneally who was Premier of NSW for two years) and as such it has pedigree. But like the "members opposite" it is a mostly uninspiring group of professional politicians whose willingness to push reform and change is curtailed not just by the paramountcy of their own job security, but by the lack of imagination to be expected from a group of such uniformity.
The particracy reigns supreme.